About Us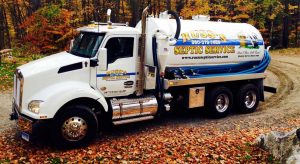 Owner Russ Neher added this 2015 Kenworth T880 with a 4,000-gallon steel tank and Jurop/Chandler LC 580 pump from National Truck Center. The truck is powered by a 455 hp PACCAR MX engine tied to an Eaton Fuller eight-speed transmission. The white truck with blue accent stripes has top and rear manways, a 3-inch inlet in front and a 4-inch inlet and 6-inch dump valve in back, and carries 230 feet of blue hose. Features include a sight tube in front, a diamond-plate toolbox and hose trays, a combination tool tray and 100-gallon freshwater tank between the cab and tank, dual chrome stacks, Alcoa aluminum wheels, Bluetooth in the cab and air-ride suspension and cab. The truck sometimes carries an Amazing Machinery jetter and camera system. Neher is the driver of the rig used mainly for residential septic service. (Content taken from http://www.pumper.com/editorial/2016/07/classy_truck_of_the_month_july_2016)
---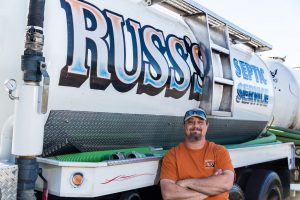 Some traditions involve family. Some involve trucks.
"My grandfather started the business in '59," says Russ Neher, a third-generation pumper and owner of Russ's Septic Service. "I think the first International he bought, they painted white, and that's the way it's stayed since."
Neher's father ran Kenworths, and while he doesn't purposely limit his fleet to one brand, "they've been a really good truck so I just decided we were going to keep going." Neher's 2015 Kenworth T880 is Pumper's Classy Truck for July. (Content take from  http://www.pumper.com/online_exclusives/2016/07 /classy_conversations_with_russ_neher  )
---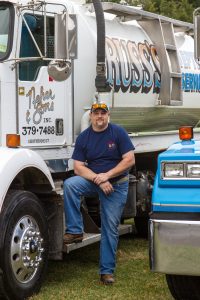 Russ's Septic Service, home base in Riverton, CT, brings to the table 56 years of quality septic tank and other services to northern and northwest Connecticut.
A Bit of History
Russ's grandfather, Russell Louis Neher started the company in New Hartford, CT. He was a local postal worker and so he knew everyone in the town. "It was an automatic success," says Kristeen Neher, the wife of Russell Neher III, who together bought the business back in 2007 from Russ's father, Russell Neher II. Russ grew up in the business explains Kristeen. "Neher and Sons, still seen on their pumper trucks, refers to the three generation of Nehers who have served the septic tank service needs of the region" say Kristeen, continuing "Russ's father and his brother, together with their father, Russ's grandfather, made up the company reflected in the original name." "Both Russ and I grew up in family run businesses and so it seemed just natural and right for us to continue the traditions and go into business for ourselves," Kristeen says. (Content take from http://www.americanliquidwaste.com/2015/07/spotlight/a-family-builds-a-successful-business-together-russ%E2%80%99s-septic-service/ )
---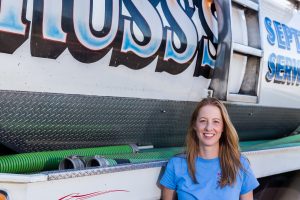 As the year ends, almost everyone is both trying to catch up, but also trying to find the best time to meet to review the business of the previous year. In order to ensure a good and prosperous new year, it is often important to make a serious review of the previous year's successes and challenges. We wanted to discover what is new in 2016 for contractors across the country and so in this editorial we talked with a septic service company from Chester County, Pennsylvania, serving all of Southeastern Pennsylvania, a septic service company from Boerne, Texas, serving the greater San Antonio area, and a third from Canton, Connecticut, serving all of the Hartford area, and beyond. (Content take from http://www.americanliquidwaste.com/2016/01/main_articles/looking-forward-to-2016-in-the-liquid-waste-industry/ )